Support designed around you and your family
From family planning to caring for an aging parent and everything in between, Cleo provides the personalized family support parents and caregivers need to address and get ahead of challenges both big and small.
Parenting and caregiving support through every stage and phase of life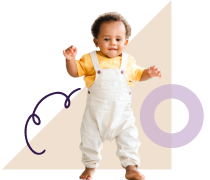 From planning to baby's 1st birthday
Planning for pregnancy
Fertility, adoption & surrogacy
Supporting a healthy pregnancy
Lactation, infant feeding & sleep
NICU & other high-risk infant support
Postpartum healing & mental health
Parent & caregiver self care
Menopause support and guidance
For parents of kids ages 1-12
Developmental milestones
Neurodivergence screening & navigation
Education & playtime activities
Support for special health care needs
Nutrition & healthy eating habits
Matching child care needs with solutions
Parent & caregiver self care
Menopause support and guidance
For parents of kids ages 13-18
Emotional support & mental health
Teens with special health care needs
Positive parenting & family dynamics
Navigating peer pressure & bullying
Fostering a positive body image
College & future planning
Parent & caregiver self care
Menopause support and guidance
For caregivers of an adult loved one
Healthy aging & planning for long-term care
Support Alzheimer's & Parkinson's disease
Fall prevention in the elderly & hip fracture
Stroke, heart failure, chronic kidney disease & depression
End-of-life care
Parent & caregiver self care
Menopause support and guidance
Dedicated support from a Cleo Guide matched to your family's needs
Personalized guidance from a certified parenting or caregiving expert
who gets to know your family
Regular check-ins to provide relevant tips and suggestions
Help finding the right resources
Answers to any question big or small.
Specialist access & clinically backed LifePathsSM
Unlimited access to 1:1 sessions with
60+ types of caregiving specialists
Early interventions and planning to improve outcomes
Proactive screenings to identify and mitigate risks
Personalized resources and community connections
Receive customized health and caregiving tips
Access a library of content from clinicians and other experts
Join live webinars, group classes, parenting or caregiving communities, and more
Family caregiver support from Cleo is making a difference every day to families like yours.
MEMBER TESTIMONIAL
"She spoke about me, not about guidelines. Not about what I must do. Just what works with me and Celia and Mustapha. What works for my family."
Marwa, mom and Cleo member
FAQ
How does Cleo's family caregiver support program work?
Cleo matches every new member with a personalized Cleo Guide to provide one-on-one support throughout their parenting journey. Cleo Guides have a wide range of backgrounds from lactation consultants and sleep coaches to childcare development and education specialists, career coaches, and more. Cleo also offers content, live expert sessions, webinars, Q&As, community groups, and more.
What types of specialists can I connect with through Cleo's family caregiver support?
Cleo's network of specialists and experts includes birth and postpartum doulas, midwives, International Board Certified Lactation Consultants, sleep coaches, child development experts, nutritionists, and more.
Does Cleo replace any of my medical providers?
We don't replace your clinical care — we complement it. Cleo helps connect you to the best providers, understand what to expect at appointments, answer questions in between visits, and learn how to advocate for yourself and your family.
How much does Cleo caregiver support it cost?
All resources available to you through Cleo are at no cost to you. The service is fully paid for by your employer.
Is Cleo family caregiver support available in languages other than English?
Cleo Guides support families across 15+ languages: English, Spanish, French, Farsi, Danish, German, Hebrew, Hindi, Indonesian, Japanese, Mandarin, Polish, Quebecois French, Russian, Turkish, & Urdu.